In addition to a broad range of texts to meet the needs of young Library patrons, Big Sky Libraries regularly runs events for young people in school terms, as well as during school term breaks.Below are some of the regular activities that are held for young people, at some of our branches.
COVID-19 UPDATE: Please visit our News page to see what programs and activities Big Sky Libraries is currently offering.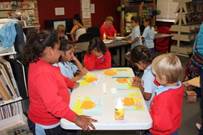 After School Activities  Fun activities for school aged children. Come along for a fun filled afternoon on specified days, no bookings required.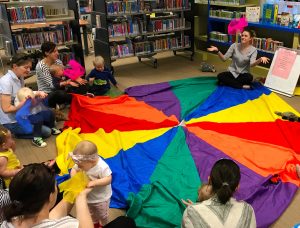 Rhyme Time A session of interactive rhymes and movement aimed at 0-5 year olds and their carers.
Storytime  Aimed at 3-5 year olds and their carers, enjoy a range of children's stories followed by a themed craft activity. Special storytimes are held throughout the year to coincide with recognised or celebrated events.
Little Bang Discovery Clubs A four week fun-filled program that teaches children the basics of scientific method. The program is run twice during the school term for children aged 4-6 and 7-12. Parent or guardian supervision is required for the 4-6 age group. Bookings are essential for both groups.
Book Clubs Discover the latest books at Big Sky Libraries and have fun participating in lots of book and reading related games and activities. There are two book clubs for young people –Big Sky's Little Readers for grades K-2 and Book Blasters for grades 3-6 – that meet at different times during the school term. Bookings are essential.
LEGO ClubA fun, one-hour session for children aged 7 to 12 years old, during the school term. Build amazing LEGO creations each session based on a specific theme, or free build.
Bright Sparks Aimed at young people 8+ years of age, this program is designed to not only support and encourage children's development in STEAM, but also problem solving skills and the enjoyment of lifelong learning. The program is run fortnightly on Thursdays (during the school term) from 3:30-4:30pm. Each fortnight children will participate in fun, game-based activities and work as a team to build, create and design projects.
The NSW Premier's Reading Challenge aims to encourage a love of reading for leisure and pleasure in students, and to enable them to experience quality literature. It is not a competition but a challenge to each student to read, to read more and to read more widely. Click here to see the Booklists
Have you ever wished you could give your favourite Australian book a prize, or maybe wondered if other kids loved a book as much as you? Thanks to the Kids Own Australian Literature Awards, young people can nominate their most-loved Aussie books and see which other titles make the shortlist, and then vote for their favourite!
Want to have a go at coding? Try a one-hour tutorial designed for all ages in over 45 languages. Select games and activities from specific topic themes, age and skill levels, and various coding languages at Code.org.
ABC Education brings you free educational resources for Primary and Secondary students. Thousands of videos, games and programs.
Autism Spectrum Disorder Support Collection
Big Sky Libraries has a range of sensory resources available for loan. View all available items in our catalogue.
How might sensory items help my child?Sensory resources are great to enhance and develop attention and concentration, as well as helping to make some environments and sensations more manageable. Children with an autism spectrum disorder often seek out sensory activities, e.g. chewing, twirling, and fidgeting. They find specific sensory experiences calming, e.g. rocking, flicking, visual patterns, flapping. Holding an object in their hands can often enhance learning. For example, if given a sensory toy to hold at mat time a child can sit for longer, concentrate better, be less disruptive to peers, is calmer and has reduced anxiety levels. Sensory toys can also replace inappropriate behaviours.
How do I borrow sensory items? Borrowing items from the ASD collection is as easy as borrowing a book. Simpy select the items you would like to borrow and a library staff member at the service desk will issue them to your membership account. All items in the ASD Collection have a loan period for 28 days and can be renewed if needed.
CYBER SAFETY
A lot of us spend a large amount of time online. This might be to find information, connect with friends or family, or do our shopping. To ensure we can continue to use the Internet for the many benefits it offers, you might like to take the time to explore the cyber safety information, below.
Keeping kids safe online starts with you. Use the various resources at eSafety.gov.au to help you start the conversation today. You will also find information on how to report cyber bullying and inappropriate content,  and tips on screen time and children with smartphones.Whats that app? If you are unsure about the applications your child is accessing on mobile devices click here to learn more about it and lots of other popular apps.
Stay Smart Online provides simple, easy to understand advice on how to protect yourself online, as well as up-to-date information on the latest online threats and how to respond.
A national digital literacy project developed in Australia has produced guide containing relevant information regarding online safety and privacy.
In partnership with the eSafety Commissioner, SBS has created discussion guides for teachers, families and carers around cyberbullying and image sharing, to promote safe and positive experiences online. Click here to view the resources.
Chosen by adults, the Children's Book Council of Australia Children's Book Awards are recognised as the most prestigious awards in the country for books for young people. Children's Book Week is the annual, national event that takes place in the week following the announcement of the winning books in each category. See what's on for Children's Book Week events at Big Sky Libraries.