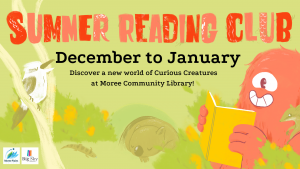 The national Summer Reading Club is returning to Moree Community Library from December 1st. The 2018 theme, Curious Creatures, encourages eager young readers to discover new worlds as they explore and connect with a curiosity of creatures through a range of interactive activities available in libraries and online.
Activity packs for preschool, primary, and secondary aged children will be available to collect at Moree Community Library from December 1st. Each pack contains an activity booklet, reading log, and an invitation to the Summer Reading Club Curious Creatures dress-up party.
The Summer Reading Club party will be held on Wednesday 30th January at 3:00pm. Prizes will be awarded for the best dressed Curious Creature and for the most reading logs completed in the summer holidays. RSVP by Monday 21st January, and notify staff of any food allergies.
Moree Community Library will also have several programs running throughout January, for children of all ages, which will touch on the Curious Creatures theme:
Adults won't be missing out on the fun either, with Knit & Natter running on Monday January 7th & 21st at 2:00pm, and the new Colouring Club for adults on Thursdays at 3:00pm from January 10th – 31st.
For more information on the holiday programs at Moree Community Library, please contact 6757 3374 or visit our What's On page.
Register online for the Summer Reading Club to find more exciting activities www.summerreadingclub.org.au/theclub/